Not all spices come from Asia. Coriander is an example of our very own European spice.
Growing coriander began in Europe and has now worldwide demand.
It is an annual herb in the Apiaceae family.
Peruvians use both the seeds and leaves in virtually all their dishes. Both in Peru and Egypt the leaves are routinely used to make soup. I use it whenever I'm adventurous enough to make Indian food.
Did you know that the roots have a much more intense flavor than the leaves and are used in a variety of Asian cuisines?
Most common of uses are in Thai dishes, including soups and curry pastes.
Seeds and powder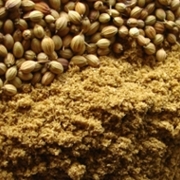 The plant comes originally from southern Europe and was brought to Britain by the Romans.
Although originating in Europe it took the opposite route to the eastern spices and found great demand throughout Asia and the developing world.
It is now an essential ingredient in many World cusines and in most kitchens in the UK.
Look for it in your local Supermarket or any cookbook.
Most people will, like me, be most familiar with it as one of the ingredients in curry powder, but it's also used to flavour confectionery.
However, in Northern Europe the seed is often used in the spicing of many local types of bread.
I love its versatility and when I discovered it was grown commercially in Essex(UK) to help flavour certain alcoholic drinks, particularly Gin, I was truly convinced of its merits.
The leaf
Until recently I knew little about the growing of this plant other than it was referred to by some farmers as the 'Stinking' plant.

It grows to about 3ft and has delicate almost white flowers. Whilst growing, the leaves and seeds give off an unpleasant smell, which earns it the 'Stinking' nickname.

Once the seeds are harvested they are dried and lose their stinky scent, which is replaced by the fragrant aroma we all know and love.
Do you use coriander, if so please tell us.
Do you have something interesting about coriander to share with other readers?

A recipe perhaps? Do you use it fresh or ground as in the spice?
Coriander recipes

Home Page - from - Coriander