People are discovering the flexible Baobab fruit is more than a very healthy source of nutrition; it's also a versatile ingredient in a whole range of recipes.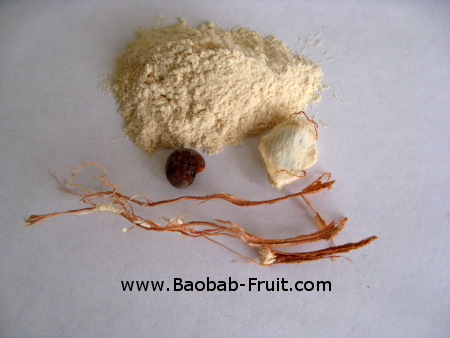 The baobab fruit powder and it's health benefits are very new to western people.
(If you arrived at this page without viewing our Baobab page, just pop back and have a quick read, I'm sure you will find it interesting.)
Now I'd like to share with you a couple of my favourite flavoured recipes.
The first requires little preparation but brings out the fruit's tangy sherbet flavour.
Baobab Cheese Cake
40gm
600gm
40gm
120gm
60gm
1/2 lemon
Baobab powder
Cream cheese
Butter
Wholemeal plain digestive biscuits
Granulated sugar or use honey
Juice
Grease a 200cm flan tin, preferably one with a loose base.
Melt the butter in a pan over a slow heat. Crush the biscuits to fine crumbs and add to the melted butter.
Add the mixture into the greased flan tin.
Mix together the cream cheese, sugar and baobab powder into a smooth consistency.
Add the lemon juice and mix thoroughly.
Spoon the mixture onto the pressed biscuit crumbs and spread evenly across the flan tin.
Cover with foil and refrigerate for 3 hours.
Nutrients in Baobab fruit
Vitamin C
Calcium
Iron
Magnesium
Potassium
Serves 6 to 8.
This is like no other smoothie you might have had.
It uses the fruit pulp that contains a high pectin level which, in turn, helps thicken the mixture and bring out it's unique taste.
Baobab and Blueberry fruit smoothie
2 tbsp
1 tsp
200ml
100ml
One
180gm
Baobab powder
Flaxseed
Apple juice
natural plain yoghurt
Banana
Blueberries
Combine the yoghurt and apple juice in a food blender and mix until smooth.
Add the flaxseed (optional, but I find it's gritty texture gives the drink a taste bonus).
Add the banana, baobabpowder and the blueberries and blend until smooth.
Pour into a straight glass and enjoy something really special.
The fruit powder can be used in savoury as well as sweet dishes.
Baobab chicken and groundnut stew
This is a delicious and traditional dish eaten all over Africa, although it would be prepared differently in different regions.
In West Africa it would be very spicy whilst in Central Africa cassava leaves, which must be cooked properly to detoxify them before eating, are used in the stew.
To really enhance the flavour of the Baobab fruit this version has a mild or medium heat and is served with cassava leaves or spinach as a side dish.
1 onion
2-3 tbsp
2 garlic cloves
small piece ginger
small green chilli
small red chilli
1 tsp
4 chicken breasts
2 cups
1 can
1 tbsp
1 cup
3 tbsp
peeled and chopped
olive oil
chopped
chopped
chopped
chopped
tamarind paste
cubed
chicken stock
chopped tomatoes
tomato puree
peanut butter
Baobab fruit powder
Add salt and pepper as required.
Chop and fry the onion in the oil (not too much oil) on a medium heat.
Mix in the garlic, red/green chilli, ginger and tamarind.
Add the chicken and fry quickly to seal, stirring continuously.
Stir in the chicken stock, tinned tomatoes, tomato puree and peanut butter.
Finally add the Baobab powder and salt and pepper seasoning.
Reduce the heat, cover and cook for 40 minutes, stirring occasionally.
Serve on a bed of rice with roasted vegetables.
Baobab will open up a whole new world of taste and its plentiful supply of nutrients combined with the fantastic flavour combines with the likes of ginger and garlic to produce a truly unique dish.
I do hope you try these recipes as I am sure you will really enjoy them both.




Return to Baobab

Home Page - from - Baobab fruit